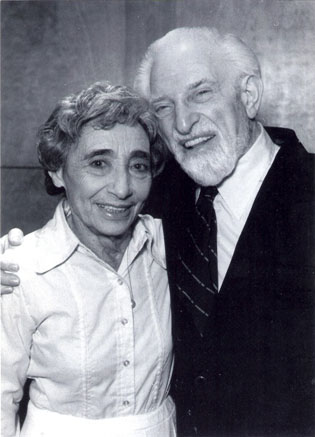 Erna and Arthur Salm rarely spoke German when they were raising their family in the Hyde Park neighborhood of Chicago. Nor did they talk much about the fact that they had to flee their native Germany shortly before the beginning of World War II and what would become the Holocaust. "They didn't talk about the humilities," said their son, David Salm, of Santa Rosa. "They didn't wear their histories on their shirtsleeves." But Erna and Arthur Salm managed to escape Hitler's Germany and the fate of millions of other European Jews, lived full and long lives as Americans, and now are the namesakes of the Erna and Arthur Salm Holocaust and Genocide Memorial Grove at Sonoma State University.
Arthur Salm was born in Cologne in 1904. Erna Mann was born in Darmstadt, near Frankfurt, in 1906. They were married in a civil ceremony in Cologne on a cold day in 1936 and posed for photos on the steps of the City Hall, he in silk top hat and she in chic urban fashion. Arthur owned a metal fabricating factory. Erna was a rising concert pianist and teacher. They doubted the rise of Hitler in the 30s posed serious danger to them. "They were good Germans who proudly loved the history and culture of their homeland," said David Salm.
But the mood of the country was changing and the Salm household changed accordingly. David Salm said he met a German woman who once studied music under Erna Salm and remembered taking lessons at the Salm house in Darmstadt which was always full of music that could be heard from the street. "Then one day she went to the house and rang the doorbell and suddenly everything, including the music, went quiet," he said. The truth of Hitler's Germany was delivered on Nov. 9, 1938 when Erna was expecting her first child.
In what would become known as Kristallnacht for all the broken glass in the street, Nazis torched synagogues throughout the country, smashed Jewish businesses, murdered nearly 100 Jews, and arrested 25,000 others and sent them to concentration camps. Arthur was arrested two days after Kristallnacht and sent to Dachau. He was imprisoned for four weeks before being released after agreeing to give up ownership of his factory and leave the country. In an interview in 1993, Erna Salm said her husband told her: "Don't ever ask what happened in there." He never spoke about it until 20 years later.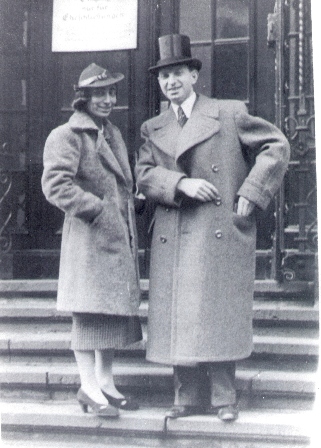 The couple fled to Amsterdam, had a baby daughter while in hiding on the same street, they would later learn, where Anne Frank and her family were hiding. A year later they received a visa to go to the United States, granted because of an affidavit signed by an uncle of Erna.They settled in Chicago where Arthur became an importer, and Erna continued with her music. They had three more children. "They were so delighted to assimilate in this country," David Salm said of his late parents. "We were taught to view the Bill of Rights as more sacred than the Torah." But, David Salm said, his parents had lasting affections for Germany. "My folks frequently returned not only to Europe but to Germany where they maintained heaps of friendships and a love of the culture," he said. "They genuinely embraced the post World War II Germany and its people."
The Sonoma State memorial is being named for Erna and Arthur Salm and because of David Salm's efforts and financial support that has helped to make the monument possible. David Salm, who is active with the Alliance for the Study of the Holocaust of Sonoma County, said the project was conceived in spring 2006 when he was visiting with friends at the home of Prof. Elaine Leeder, Dean of the SSU School of Social Sciences, herself the daughter of victims of the Holocaust. "We were feeling totally beat up as events around the world, including the genocide in Darfur, were transpiring under the Bush administration," he said. "We were sitting around and doing absolutely nothing. That sort of indifference is the sort of vacuum that can lead to the madness that so often is manifested in genocide."
The idea of a monument to genocides of the past and present and a reminder to prevent such horrors in the future took root and won the support of the university and a cross-section of ethnic communities which have all suffered from genocide. The estimated $100,000 project – financed entirely with private funds, in-kind donations from businesses both in Sonoma County and beyond, and with a dedicated cadre of volunteer labor – will culminate March 29 with a dedication ceremony on the campus. The sculpture by SSU Prof. Jann Nunn shows railroad rails converging at the base of a 10-foot-tall column made up of 5,000 individual panes of glass. "It's symbolic of the shattered glass and lives of the Holocaust and all genocides," Salm said. "It really is a triumph for people who could have perished but instead have been able to build new lives."
-- Written by Bob Klose, bklose@pacbell.net