2023 Holocaust and Genocide Lecture Series:
Again & Again: Patterns of Genocide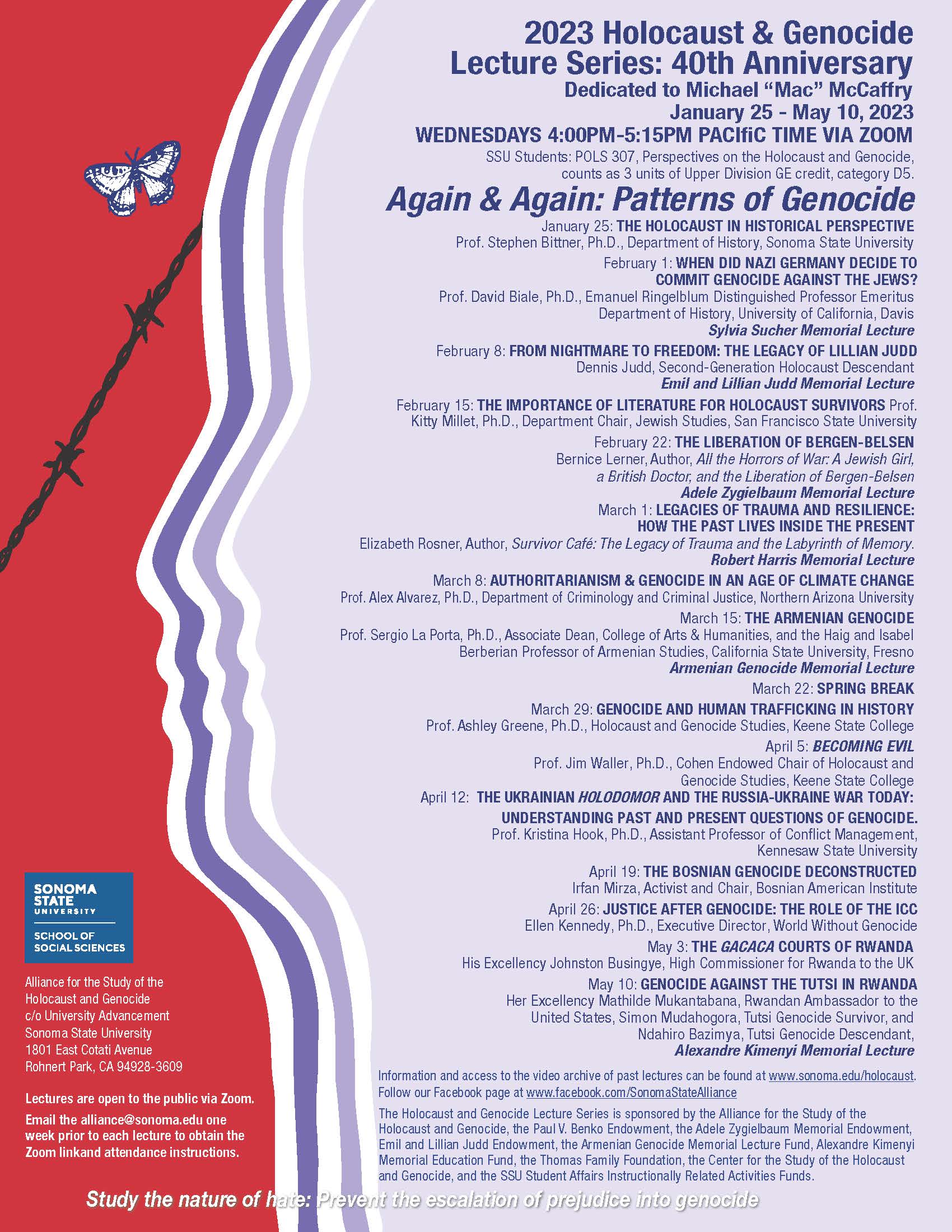 Download PDF Flyer
January 25 - May 10, 2023
Wednesdays from 4:00PM-5:15PM
Via Zoom
Special Schedule Notice: The March 15th Lecture with Prof. Sergio La Porta on the Armenian Genocide will be On-Campus.  Details for location are TBD.
SSU Students
POLS 307, Perspectives on the Holocaust and Genocide counts as upper-division General Education credit under GE category D5.
Lecture Series Academic Coordinator
General Information
All lectures are open to the public via Zoom. Email the alliance@sonoma.edu one week prior to each lecture to obtain your Zoom link and attendance instructions. Please share this with others who may be interested in attending. 
When we resume the Lecture Series on campus, a daily parking permit ($5.00) is required at all times, but it is not valid in Reserved Lots.  Permit machines accept cash and major credit cards.
For more information about the Lecture Series, contact the Lecture Series Coordinator at: studiesh@sonoma.edu.
Sponsors
The Holocaust Lecture Series is sponsored by the Alliance for the Study of the Holocaust and Genocide, The Paul V. Benko Holocaust Education Endowment, the Armenian Genocide Memorial Lecture Fund, the Adele Zygielbaum Endowment, the Thomas Family Foundation, the Center for the Study of the Holocaust and Genocide, and the Sonoma State Students' Instructionally Related Activities (IRA).
Please "like" the Facebook page for the Alliance for the Study of the Holocaust and Genocide for more information about each of the upcoming lectures in the series.
Upcoming Lectures